Raw Dog Food Sale
Every day is a sale day here on the ranch when your order Raw Dog Food by the case. Ordering by the case allows for deep discounts and sale pricing on the freshest raw dog food, Rawlicious. Our Raw Meat Sale products are packaged conveniently in 6 or 10 pound chubs. Shipping raw food products for your dog in bulk keeps cost down for both of us. Pet food packaged in 6-10 pound re-closeable bags stores nicely in the freezer and holds the best while in transit.
Raw ground beef on sale: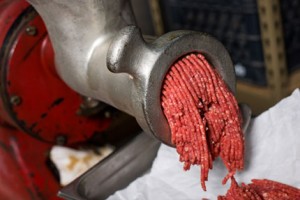 Raw Ground Dog Food shipped by the case at 60 pounds is the best bang for your buck. Our shipping rates for the case are the best at 60 lbs thus giving you the deepest sale prices on raw pet food. Door to door service is currently available for Phoenix, Tucson, Scottsdale, Mesa, Gilbert, Payson, Show Low, Heber Overguard and many other Arizona Cities when you order over 100 pounds of Raw Dog Food.
Raw ground Chicken on sale: